Robotic Assisted Pyeloplasty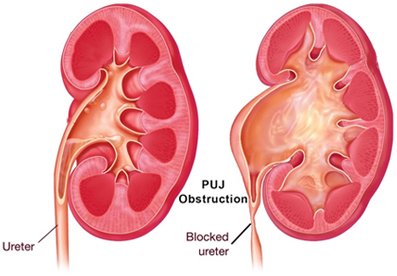 What is Robotic-Assisted Pyeloplasty?
The repair of Ureteropelvic Junction Obstruction with surgical Robotic-Assisted technology is known as Robotic-Assisted Pyeloplasty. Robotic Surgery allows more precision than conventional surgery with enhanced dexterity, control and vision. This procedure involves reconstruction of renal pelvis to establish drainage and decompress the kidney. The surgeon clears the blockage and with the tissue of the remaining ureter and renal pelvis a new conduit is constructed.
What is Ureteropelvic Junction Obstruction?
Kidneys are the primary organs responsible for production of urine by filtering blood. The kidneys collect the urine in the central part known as pelvis and it flows down to the bladder in a tube called ureter. A blockage between renal pelvis and ureter is called Ureteropelvic Junction Obstruction. It may occur before birth or develop over time.
Who needs a Robotic Laparoscopic Pyeloplasty?
Robotic Laparoscopic Pyeloplasty is used for patients with Ureteropelvic Junction (UPJ) Obstruction of the kidney. Due to blockage of urinary flow, urine builds up in the kidney causing renal damage.
Depending on your condition we can help you choose the best robotic surgery,
to know more, book an appointment today.
Indraprastha Apollo Hospitals, New Delhi, India
Gate No. 10, Room No. 1019, Ground Floor,
Mathura Rd, Sarita Vihar, New Delhi – 110076